The Park Avenue is touted as the most popular 5 person hot tub from ThermoSpas®. It was built for luxury with the design meant to satisfy anywhere from 1-5 occupants with armrests and built-in pillows for the max amount of comfort and relaxation.  The design allows for people to lie either side by side or stretch out and face each other directly. In the center sits a deep foot well for any of the up to five people in the hot tub to enjoy. It was clear that when they built the Park Avenue they wanted to incite comfort just as much as luxury.
MANUFACTURER
ThermoSpas®
KEY FEATURES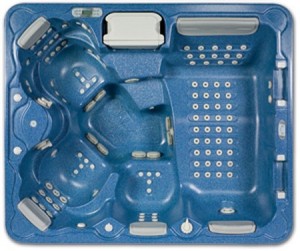 Therapy seats for deep massage
Double wide, reversible lounge
Deep foot well and powerful whirlpool jet
Computerized control panel
Pillow Jets for neck and shoulder massage
LED underwater lighting
Acrylic shell
Removable and reversible wall panels
3 color options
Full Thermoinsulation system
Easy to use valve control knobs
OPTIONS
Deluxe stereo packages
Safety hand rail
Standard 3' and full length step packages
SPECIFICATIONS
Seating Area: 5
Total # of pumps: 3-6
Jets: 42-118
Heating capacity (BTU's): 18,700
Electrical: 220V
Dimensions (LxWxH): 95"x80"x38"
Capacity: 425 Gallons Full
WARRANTY
20-Year Structural Warranty
10-Year Shell Surface Warranty
10-Year Equipment Replacement Warranty
10-Year Electronics No-Fault Parts Replacement
3-Year Cabinet
Labor Warranty
Accessories Warranty
REVIEWS
The reviews we found are overwhelmingly satisfied with the Park Avenue. Some examples of the reviews are, "My husband and I purchased our first hot tub from the ThermoSpas this year and we could not be happier with our hot tub AND the awesome customer service we received. Great product and great company!" and, "Great service and set up. Have really enjoyed the hot tub." The company even answers the customers who put reviews on the website which only speaks to their devotion to their customers. There were no negative reviews found for this hot tub.