The Olympian is a very spacious 6-person hot tub that can handle anything from a 6 person party to single person looking to relax after an intense workout and everything in between.  ThermoSpas claims that it is a combination of three hot tubs into one where exercise and therapy needs meet the demands of an entertainment spa, which is hard to argue with when you look at the size of the hot tub. The hot tub comes with anywhere from 36 to 75 jets and multiple elevation's to fit different body sizes and the jets can target specific body parts. The Olympian serves those looking to entertain and reap the benefits of a hydrotherapy spa.
MANUFACTURER
ThermoSpas®
KEY FEATURES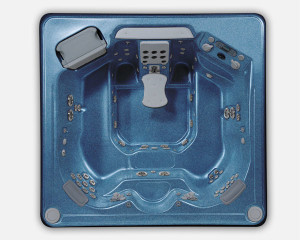 Adjustable padded seat
Removable and reversible ice bucket
Seating for couples and families
Therapy seat for deep massage
Computerized control panel
Long lasting heaters
LED underwater lighting
Acrylic shell
Removable and reversible wall panels
Skimmer with basket
OPTIONS
Deluxe stereo package
Safety hand rail
Air bubbling system
Stainless steel jet package
Upper body conditioning package
 SPECIFICATIONS
Seating Area: 6
Total # of pumps: 3-6
Jets: 35-75
Heating capacity (BTU's): 18,700
Electrical: 220V
Dimensions (LxWxH): 93"x88"x43"
Capacity: 425 Gallons Full
WARRANTY
20-Year Structural Warranty
10-Year Shell Surface Warranty
10-Year Equipment Replacement Warranty
10-Year Electronics No-Fault Parts Replacement
3-Year Cabinet
Labor Warranty
Accessories Warranty
REVIEWS
The reviews found online for this hot tub are glowing. Customers stated that they could spend hours in it and still feel the benefits of it and went on to say, "We are enjoying our SPA very much. Its features, looks and construction have impressed us. Delivery and setting it up went well, with any hitches solved smoothly and quickly. We expect to have many years of enjoyment." The reasons for most customer's purchase were for relaxation,  health and hydrotherapy.  The customer's expectations were generally very satisfied. The product had no negative reviews to be found.