The Maui is a three person hot tub that is designed with space saving comfort in mind. Heavily regarded as one of ThermoSpas® most comfortable three person hot tubs, the Maui comes in a compact format with plenty of the features you would normally find on a larger luxury spa.
With the Maui and its three person design, you can get access to better energy efficiency, a quiet pump and a seating area which is made to suit people of all heights with optimal jet placement. Therapeutic massage jets can hit many different points throughout the body and with the full sized massaging seats made for different heights it's possible that you and your guests can all feel comfortable and relaxed inside.
The exterior cabinet on the Maui model is also something to behold. The top rail is much softer and more elegant than you might be used to on other spas and the material mimics the feel of a furniture lounge. This top rail and exterior surface is 100% safe for outdoor use and requires little to no maintenance for upkeep.
For those who are seeking a compact spa design with all of the features of a larger deep therapy set spa, the Maui is a good choice.
MANUFACTURER
ThermoSpas®
FEATURES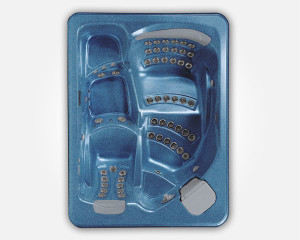 Contoured armrest seating
LED underwater lighting
Computerized control Panel
Pillow Neck Jets
Titanium component heaters which last 10x the standard heater lifespan.
Double Wide lounge design with powerful jets.
Continuous cast acrylic exterior shell.
3 cabinet design colors
Viton Seals on all pumps
Reversible removable wall panels.
Thermobond underlay system.
Thermoinsulation system
Sound deadening THermoblanket
Cogenerated heat thermofiltration.
2lb thermocover.
OPTIONS
Total Control Therapy® allows each person to control their own jet settings
Deluxe Stereo package
Deluxe LED Lighting package
SPECIFICATIONS
Seating Area: 2-3
Total # of pumps: 2-4
Jets: 25-63
Heating Capacity (BTU's): 18,700
Electrical: 220V
Dimensions: 65"x86"x34"
Capacity: 235 Gallons
WARRANTY
20-year Structural
10-Year Shell Surface
10-Year Equipment Replacement
10-Year Electronics No-Fault Parts Replacement
3-Year Cabinet
REVIEWS
From reviews researched we found most customers are very satisfied with the Maui Hot tub.  Customer comments include "The quality of our Maui is outstanding." and "Been using my spa every night since I bought it! Sleep like a baby because for the first time in years, my body doesn't hurt."  The only negative review we could find simply stated that [the] "Price to value is questionable".