The J-315 comfort lounger for small spaces is the ideal 2-3 person hot tub for the intimate evenings with a significant other. The Jacuzzi is the perfect fit for a backyard turned into a relaxation center. The 8 FX Jets deliver a powerful and stress reducing massage while you enjoy a lounge seat to soothe and massage your muscles. The ergonomically designed hot tub is the perfect fit for newlyweds treating themselves to hydrotherapy and relaxation. The company offers easy financing and a plethora of h ot tub accessories that can accompany the purchase.
MANUFACTURER
Jacuzzi®
FEATURES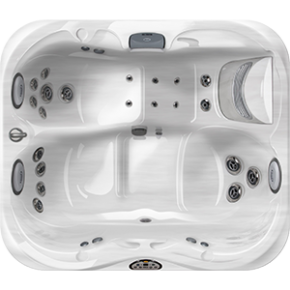 Lounge seating
LED lighting
PowerPro Jets
Full-color ProTouch panel
4-stage filtration system
Neck Pillows
ACCESSORIES
Hot tub cover
Steps
Purification systems
SPECIFICATIONS
Seating Area: 2-3
Jets: 21
Electrical: 240V
Dimensions (LxWxH): 76"x66"x32"
Capacity: 230 Gallons
Circulation pump
WARRANTY

10-Year Structural Warranty
7-Year Shell Surface Warranty
5-Year Equipment Replacement Warranty
5-Year Electronics No-Fault Parts Replacement
5-Year Cabinet
REVIEWS
There are numerous positive reviews for this hot tub online. The highest rated characteristics of this hot tub are quality, ease of use, and styling. The reviews range from, "I cannot think of anything that could make it better. I'm sure you asking and listening to consumers feedback is what lead to such fine improvements." To, "We bought this for therapeutic reasons because my wife and I are elderly. It really helps the aches and pains." And, "We've had it now for several months, chose the Baquaspa system for its low maintenance, and haven't regretted it. I'm really enjoying creating a little backyard retreat…I can't wait for retirement." It appears that the only negative complaints include the hot tub has a short life span and one that had mechanical problems which were resolved by the company.