The Healing Spa by ThermoSpas® is a 5 person hot tub meant for those dealing with the pain of arthritis. ThermoSpas have built a hot tub that utilizes the theory that warm water therapy is a treatment for arthritis joint pain and soreness of muscles. They even boast an Ease-of-use commendation from the Arthritis Foundation. The Healing Spa has room for four adults and an area for a child as well as two deep therapy seats. It is obvious that this particular hot tub is designed to benefit those with limited mobility or are suffering from arthritic pain the most.
MANUFACTURER
ThermoSpas®
KEY FEATURES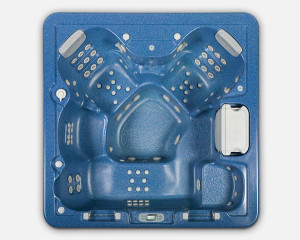 Therapy seats for deep massage
Computerized control panel
Pillow Jets for neck and shoulder massage
LED underwater lighting
Acrylic shell
Removable and reversible wall panels
3 color options
Full thermoinsulation system
Easy to use valve control knobs
OPTIONS
Total Control Therapy personalization
Safety hand rail
Stainless steel jet package
SPECIFICATIONS
Seating Area: 5
Total # of pumps: 3-6
Jets: 27-91
Heating capacity (BTU's): 18,700
Electrical: 220V
Dimensions (LxWxH): 85"x85"x38"
Capacity: 400 Gallons Full
WARRANTY
20-Year Structural Warranty
10-Year Shell Surface Warranty
10-Year Equipment Replacement Warranty
10-Year Electronics No-Fault Parts Replacement
3-Year Cabinet
Labor Warranty
Accessories Warranty
REVIEWS
The reviews for this product indicate that they have experienced some benefits from the hot tub. Ranging from, "Extremely therapeutic, after I get out of the hot tub I can feel the difference." To, "Wonderful buy, it's nice to relax in my hot tub at the end of the day." There doesn't seem to be a lot of dissenting opinions about the hot tub. Although one gave it just an okay rating because they said there were too many jets. The overall attitude however seems to be highly in favor of the product.