The Gemini by ThermoSpas® is a 2-person hot tub that can fit in tight spaces. It can be used both indoors and outdoors. Though small in size it does have enough room for two people to sit comfortably and enjoy the massaging jets including pillow jets for neck massaging. Each side of the hot tub has a slightly different jet layout making for a unique relaxing experience.  Overall this hot tub is fairly basic in features but should be a great option for someone looking for a decent economically priced small hot tub.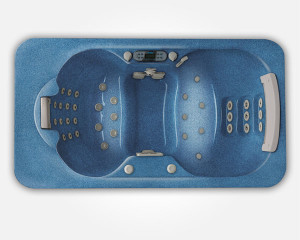 MANUFACTURER
ThermoSpas®
KEY FEATURES
Dual Seating
Heaters with titanium components
LED underwater lighting
Pillow jets
Multiple shelf areas
Digital control panel
Choice of 3 colors
Acrylic Shell
OPTIONS
Total Control Therapy® allows each person to control their own jet settings
Deluxe Stereo package
Deluxe LED Lighting package
SPECIFICATIONS
Seating Area: 2
Total # of pumps: 3-4
Jets: 28 – 51
Heating Capacity (BTU's): 18,700
Electrical: 220V
Dimensions: 81″x35″x31″
Capacity: 215 Gallons
WARRANTY
20-year Structural
10-Year Shell Surface
10-Year Equipment Replacement
10-Year Electronics No-Fault Parts Replacement
3-Year Cabinet
REVIEWS
The majority of reviews we found online indicate that customers are generally very satisfied with this hot tub.  Customer comments include "We initially bought this spa for the therapeutic relief it provides for arthritis and joint pain, and in that regard, we can't say enough about how much it has helped." and "We are so pleased with the quality of our spa and the different jets that are provided."  The only negative review we found indicated that they were not happy with the lack of features.